The Village Nursery School offers a wide variety of structured and unstructured activities designed to develop basic concepts, language, listening and problem solving skills, as well as small and large motor skills.
Our large facility provides a full gym, indoor playroom, music/story-time room in addition to out classrooms and office. This allows space and opportunity for the children to develop their large motor skills and social skills.
Our classrooms are filled with materials which encourage learning through play. The curriculum includes colors, shapes, numbers, letters, seasons, holidays, animals, nutrition, and "I Am Special" units. Special days include Pajama Day, Backwards Day, Teddy Bear Day, Winter Picnic, Thanksgiving Feast, New Years Parade, Valentines Day and St. Patricks Day.
Other opportunities for fun and learning:
WEEKLY MUSIC CLASS
WEEKLY GYM CLASS
FENCED IN PLAYGROUND
FIELD TRIPS
MONTHLY STORY TIME FROM THE FAYETTEVILLE LIBRARY'S, CHILDREN'S LIBRARIAN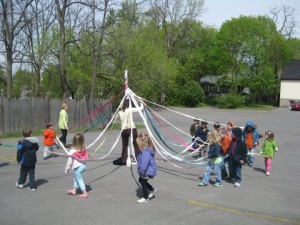 Please call us for more information ~ 315-637-9683
Or Email: info@thevillagenurseryschool.com